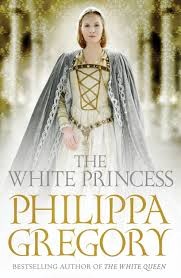 The white princess av Philippa Gregory är fortsättningen på hennes serie om rosornas krig.
Den handlar om Elizabeth of York som tvingas till giftemål med Henry VII för att förena Huset York och Huset Lancaster. Förhoppningarna är att det ska ger England fred efter många år av inbördeskrig mellan de röda (Lancaster) och de vita (York) rosorna. Men oroligheterna fortsätter och Elizabeth slits mellan plikten till sin familj och plikten till sin make.
Elizabeths egen mor försöker störta henne, hennes man litar inte på henne och till råga på allt dyker en ung man upp som påstår att han är hennes sedan länge försvunna lillebror (och som alla trodde hade dött i the Tower of London där han satt inlåst med sin storebror kronprinsen Edward) och inbördeskrig hotar återigen England.
Som vanligt skildrar Gregory tiden och karaktärerna på ett både trovärdigt och fängslande sätt. Jag önskar att jag inte redan hade läst hennes böcker om Tudortiden men alla som inte plöjt igenom dem ännu har många fantastiska läsupplevelser att se fram emot!