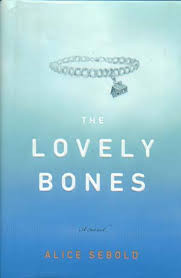 "My name was Salmon, like the fish; first name, Susie. I was 14 when I was murdered on December 6, 1973."
Så börjar The lovely Bones av Alice Sebold. Det är Susie som berättar om sitt mord och sin mördare. Från sin alldeles egen himmel tittar hon ner på jorden och ser hur hennes mord splittrar familjen. Hon ser hur vänner, föräldrar och syskon hanterar sorgen på olika sätt, hur hennes bortgång påverkar deras liv och hur de så småning om finner stryrka att gå vidare.
Jag sträckläste denna bok under helgen, den är omöjlig att lägga ifrån sig. Om du letar efter något att läsa på stranden eller i hängmattan i sommar försök få tag på The lovely bones!