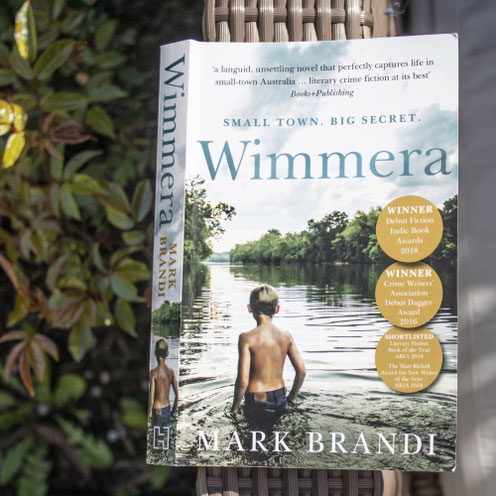 WIMMERA by MARK BRANDI. I loved this slow-paced heart-breaking crime novel! Perhaps partly because it plays out in a small town in the state of Victoria, Australia, which reminded me of my years there. I lived in the city centre in Melbourne, but the slang, expressions and surroundings felt very familiar. And the story is engaging and compelling too!  A fantastic debut novel!
Blurb:
In the long, hot summer of 1989, Ben and Fab are best friends.
Growing up in a small country town, they spend their days playing cricket, yabbying in local dams, wanting a pair of Nike Air Maxes and not talking about how Fab's dad hits him, or how the sudden death of Ben's next-door neighbour unsettled him. Almost teenagers, they already know some things are better left unsaid.
Then a newcomer arrived in the Wimmera. Fab reckoned he was a secret agent and he and Ben staked him out. Up close, the man's shoulders were wide and the veins in his arms stuck out, blue and green. His hands were enormous, red and knotty. He looked strong. Maybe even stronger than Fab's dad. Neither realised the shadow this man would cast over both their lives.
Twenty years later, Fab is still stuck in town, going nowhere but hoping for somewhere better. Then a body is found in the river, and Fab can't ignore the past any more.
If you want to know which other books I loved, click here.
---