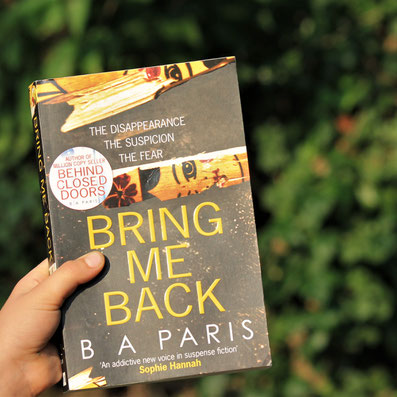 Book review: Bring Me Back by B.A. Paris.
Unique, compelling and disturbing. This is an addictive read that I finished on the first day of my holiday. I really enjoyed the storytelling, the character descriptions and all the unexpected twists. Five stars from me!
Blurb:
Finn and Layla: young and in love, their whole lives ahead of them. Driving back from a holiday in France one night, Finn pulls in to a service station, leaving Layla alone in the car. When he returns, minutes later, Layla has vanished, never to be seen again. That's the story Finn tells the police. It's the truth – but not the whole truth.
Twelve years later, Finn has built a new life with Ellen, Layla's sister, when he receives a phone call. Someone has seen Layla. But is it her – or someone pretending to be her? If it is her, what does she want? And what does she know about the night she disappeared?
If you want to know which other books I love, click on the link: Amazon reviews
---