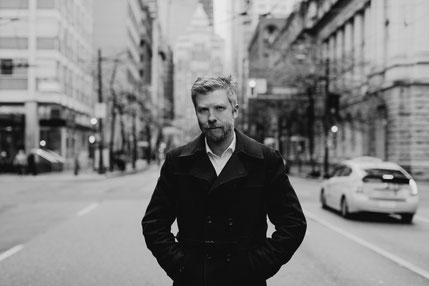 Today, on the blog I have acclaimed crime writer Seamus Heffernan as a guest. His debut novel NAPALM HEARTS was published earlier this year and its follow up will arrive next summer. I can't wait to read them both!
Read his revealing and engaging interview to find out more about this exciting new author, his books and the protagonist, Thaddeus Grayle.
If you are a writer or book blogger and would like to be interviewed for my blog, please contact me on info@saraonnebo.com.
When did you decide to be an author and how/why did you start writing your debut novel NAPALM HEARTS?
When I was a kid, my dad used to bring me to this used bookshop in my hometown of St. John's, Newfoundland, where I became an obsessive reader of comic books and cheap paperbacks. That got me writing a lot, both in school and on my own, but so much of it was just dreck. In the back of my head, though, even as I got older, I always knew that this is what I wanted to do. I wanted to write cool stories and create characters people cared about. I wanted my book to someday be on that book shop's shelf.
As regards NAPALM HEARTS: I always wanted to write a crime story and I lived in London for a long time. That, and a few lonely months in my own life, plus a bit of time spent on a those seedy London streets gave me ample material to work with.
Can you tell us a little bit about your book and what your readers can expect from the upcoming follow up?
NAPALM HEARTS is a detective story about an American PI working in London. He is making a decent living working infidelity cases but is pretty bored, so when (trope alert) a rich and powerful client hires him to find his missing trophy wife, he jumps at the chance. From there, the necessary twists and (occasionally violent) complications ensue.
It's a mystery, and while I certainly wouldn't describe it as high literary art, it is a book that explores some tough themes: Loneliness, class, love, sex and loyalty. The protagonist, Thaddeus Grayle, never really fits in. He's an American navigating life in a strange land, and then takes a case that plunges him into a part of his adopted city he has never seen before. Ultimately, it's a book about being an outsider in worlds you don't really understand.
The follow up (tentatively titled TEN GRAND) picks up about a year later. Thaddeus is back, as are a few other familiar faces, plus some new ones. It's a new case that explores themes about friendship, family and debts unpaid. It should be out next spring or summer.
NAPALM HEARTS may be ordered here, on any Amazon site and Barnes & Noble.
Also, if you want to connect, feel free to get in touch through any of these—I promise I'll get back to you:
info@seamusheffernan.com
Was writing the second part of the series harder? Or easier?
It's…different. The first book was a hobby that just got a little out of hand. With this book, however, there are expectations, both from people who enjoyed NAPALM HEARTS and my publishers, who obviously want a good return on their investment in a timely fashion.
The easiest way to describe it is this: Writing the first book was a bit of fun, writing the second book is work. That's not a bad thing, per se, but it's certainly not the same thing.
You have an interesting background, have your previous experiences inspired your writing?
Oh God, yes. I spent five years in London and loved it. I grew up in a pretty small place and from when I was a kid I wanted to travel and live in a massive city. London was perfect—it's truly a world capital and there are only a handful of those on the planet, so I felt pretty fortunate to be there.
That said, the end of my time there was tough. My marriage broke up and I went through a pretty long period of loneliness and self-doubt. There's nothing worse than feeling alone in a massive city—I adored London but I could feel the city and its temptations swallowing me up whole. I moved back to my hometown of St. John's, Newfoundland, for a hard life reboot and I'm pretty sure it saved me.
A few years after relocating, I started knocking around ideas for a book and my narrator needed a voice. I could hear my own loss and that awful sense of urban isolation creeping into his, and decided to stop fighting it and let it happen.
Can you describe your writing process?
After the initial idea is settled, I prep a rough outline and I start. So, a mix of planning and pantsing, if you will.
I also drink a lot of coffee and eat a shocking amount of rotisserie chicken. I don't know—it just works.
Can you name three of your favorite authors?
May I cheat a bit here?  Outside of crime fiction, some modern writers I like include Bret Easton Ellis, Douglas Coupland, Michel Faber and Lee K. Abbott. Raymond Carver and Anton Chekhov are my go-to guys for the short stuff. Finally, I used to be heavy into comic books and find Brian Michael Bendis and Warren Ellis interesting.
Within the genre: Ian Rankin, Richard Price and Dennis Lehane. Finally, any of us who dare put 'crime fiction writer' anywhere near a resume must willingly genuflect to Chandler and Hammet, of course. And they totally deserve it.
What do you like to do when you are not writing?
Well, reading is (and should be) the obvious choice, but I'm way behind with the growing stack of books in my home. Real life and writing novel number two are conspiring against me, I suppose.
I'm a movie obsessive, I watch way too much Netflix and I enjoy shouting at my TV when Arsenal are playing. (That last one's a holdover from my time in North London—go Gooners.)

---