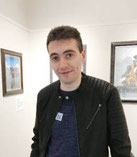 I'm delighted to have Science Fiction & Fantasy writer Craig Boldy as a guest on my blog today. We're chatting about his passion for writing and the path from idea to publication. If you haven't already discovered his thrilling futuristic novels you can find them on Amazon.
Are you a book blogger or writer and would like to be interviewed for my blog? Please send an e-mail to info@saraonnebo.com.
When did you decide you wanted to be an author and how did you get from idea to finished novel? 
I've always been a lover of books and stories, I remember once at school when I was about 8, we were asked to write a short story on one side of A4 and as the rest of the classroom were struggling to fill a page, I had written 8 pages and was attempting to glue them together. I think that's when I realised I wanted to be an author.
How do you keep yourself motivated through the whole writing process?
I like to see a story finished, and I write for the fun of it more than anything. There's a strange kind of joy at seeing something you have worked on so hard being finished. I also have a terrible track record with motivation. I'm severely unmotivated at times, but then ultra-productive at others, so on average I think I keep a decent writing schedule.
What are your books about?
Generally, I write what I like to read, so it tends to be science fiction and fantasy. I like broken heroes in one way or another, so my main characters tend to have something to overcome. I also like twisty stories and really enjoy putting mysteries and "gasp" moments into mine.
Where do your ideas come from?
I think if you ask any author they will generally give you the same answer. I don't really know. I may be watching something on tv or listening to something on the radio, and I will get an idea for a story, generally unrelated to whatever entertainment I have on. This will give me the vague outline of a story, and then after that moment it's like a little movie plays in my head, and that's where it stays, like your favourite part of your favourite movie, until I can get it down on paper. I suppose you could call it an overactive imagination.
Can you describe your writing process?
As I mentioned in your last question, after I have a general feel of where I want to go with a story, and that little movie is playing in my head then my first step is to get it into words. I generally get somewhere between one and two chapters out of this, and it can be from anywhere in the book, from the ending to a particularly exciting scene somewhere in the middle. Once I have these then it's just a case of engineering a good starting point, joining up the chapters I have already written, and formulating a great ending. This still only gets me about two-thirds of the finished story though. After I've gotten down all of the main plot points, I will then go back through and flesh it out with interesting characters and subplot until I'm happy with it.
What is the hardest part about writing?
Editing! Definitely editing. I will happily read a sentence I was happy with when I wrote it only to rewrite it on the second pass. I might do that two or three times until I'm finally satisfied with it. I've been known to cut whole sections of text, only to write them back into the story in another way.
What do you enjoy the most?
I like the whole writing process (except editing!) Getting the story down in text and working out what is going to happen to the characters next, and then what is going to stop them from doing what they need to
do and finally how they are going to overcome it.
What's your best advice to aspiring authors?
That's a good question; I think there are lots of things I could tell an aspiring author which some people may class as advice. I think the most important two are read and write. Reading because it's like training for writers. If you read enough books you kind of train yourself without realising things like pacing and the ebb and flow of a plot and subplots. Writing because generally the more you write, the better at it you get. Beyond those, you should write because you enjoy writing because it's who you are. If you are happy to write as if nobody is ever going to see your work and you will never make any money from it, then you are writing in this way.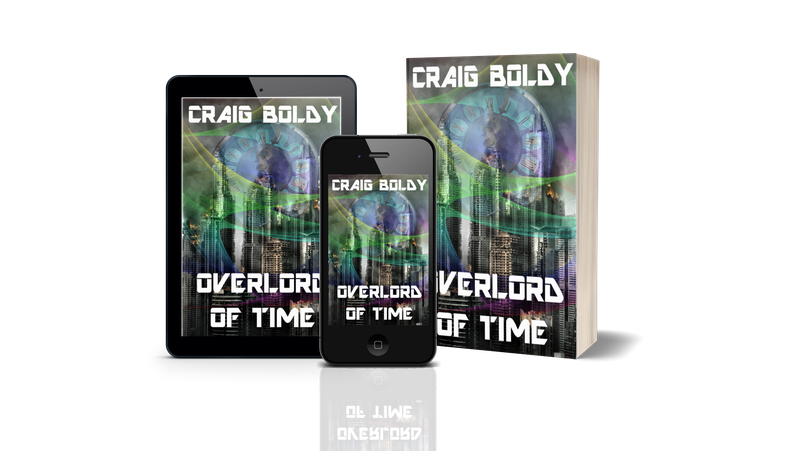 Overlord of time is Craig's debut novel. A Thrilling Adventure To an Alternate Future!
Blurb:
Jason Brooks is the founder of a successful R&D Company - FutureTech Industries. After concluding a research project on miniaturised time-travel technology, he was ready to move on to the next great mystery, until an apparent malfunction thrusts him into an alternate timeline.
Travelling into the not too distant future, looking for answers, Jason suddenly finds himself on the losing side of a war against a madman who has conquered the planet using Jason's inventions.
Lacking the power to return to his own time and plagued by a recurring dream containing a message he can't understand, Jason is forced to fight his way to the person responsible for the devastation as he desperately tries to find a way to restore his timeline and put an end to the horrific vision of the future he finds himself in.
This incredible story will satisfy not only sci-fi enthusiast but everyone who's looking for a nail-biting adventure to keep them longing for the next page!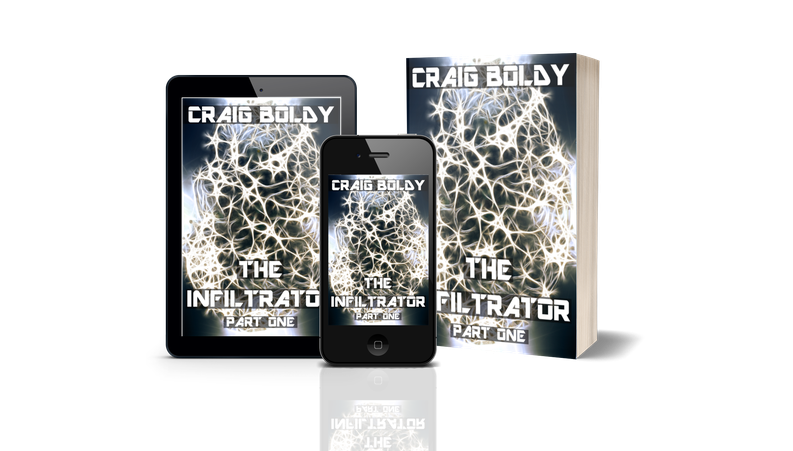 Craig's second novel The Infiltrator is the first part of a series and will be available from the 17th of November.
Blurb:
A freak accident during an arrest leaves decorated agent Arthur Buxton paralysed from the neck down.
Barely adjusting to his new life confined to a wheelchair, he is visited by a representative of a classified cutting-edge government program with an offer too good to turn away. The catch? Having what remains of his entire life erased and losing the chance to ever walk on his own again. 
Accepting an offer to install technology in his spine, Arthur is now able to infiltrate the minds of anyone infected with microscopic machines known as nanites, taking complete control of their bodies and preventing the crimes they are committing from ever occurring.
What would you do? Infiltrate a terrorist cell and prevent a catastrophe? Or a gang of kidnappers and save the hostage? Or even stop a bank robbery, all while infiltrating the minds of the criminals?
Is this the future of law enforcement or another shady government organisation bent on completing the mission at any cost?
One thing is for sure. Arthur is no fool. He knows nothing this amazing comes without a catch, and there is something strange going on at the Agency.
Do you want to find our more about Craig Boldy?
Website: www.craigboldy.weebly.com
Twitter: https://twitter.com/BoldyCraig
---