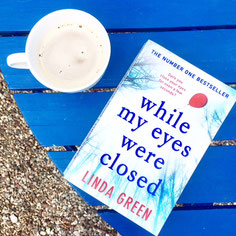 "While my eyes were closed" by Linda Green.
Blurb:
One, two, three . . . Lisa Dale shuts her eyes and counts to one hundred during a game of hide-and-seek. When she opens them, her four-year-old daughter Ella is gone. Disappeared without a trace. The police, the media and Lisa's family all think they know who snatched Ella. But what if the person who took her isn't a stranger? What if they are convinced they are doing the right thing? And what if Lisa's little girl is in danger of disappearing forever?
My opinion: 
A parent's worst nightmare. A four-year-old girl goes missing during a game of hide-and-seek. I really enjoyed this dramatic novel. The character's were likeable and believable. I found it impossible to put down.
If you want to know which other books I love, click on the link: Amazon reviews
---